Polyvore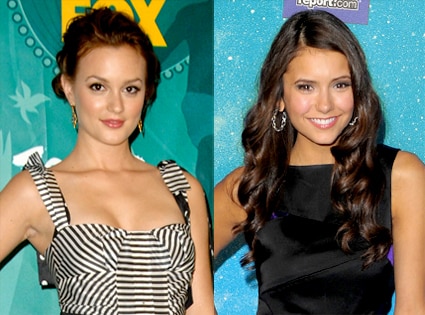 these girls are amazing! they are beautiful, friendly, graceful, and obviously doing amazing jobs. if you're watching Gossip Girl and The Vampire Diaries, you should've known them and how great they are. either Leigh or Nina plays a sly and cruel yet fabulous role on the series. I assume those roles are waaay different with how they act in real life and that is why I adore them. Blair is not Leigh, so is Katherine is not Nina.
P.S. I just knew that they are actually friends in real life yaaaay :D
xoxo
Posted by

Falilaaa
at 9:47:00 PM
2 comments
yay! she is Alexa Chung. the multitalented slash fashionable woman. anything she wear is just look fabulous and cool. and how to steal her style? be simple. you don't need to buy those expensive things to get her look. just open your closet and find something simple, such as mini skirt or over-sized t-shirt. the next thing to do is mix and match those outfit... and voila! you get the look!!
the key is always wear what comfort for you. and remember, anyone got their own style. so... be you.
Catch ya later! xoxo
Posted by

Falilaaa
at 6:31:00 PM
0 comments
Posted by

Falilaaa
at 6:55:00 PM
0 comments
Categories
Animal
Author
Biography
Book
Buku
Chace Crawford
Comedy
Couple
Diary
Fashion
Friendship
Girl
Gossip Girl
Kids
Life
Love
Me
Movie
my mind
Name
News
Past
People
Pictures
Plan
poem
Quote
rain
Resensi
Robsten
Scene
School
SMP N 45
Something
Song
Spoilers
Story
Tips
TV Series
Twilight
Twitter
Video
Westlife
Wishlist